Why You Should Get Your Tree Stump Ground
1. It increases property value and makes it easier to sell your home. 
2. Reduces the chance of the stump re-growing.
Tree stump grinding reduces the chance of the stump re-growing in the future, which would be an inconvenience to homeowners. The process does not require expensive equipment or heavy machinery, making it affordable for residential or commercial properties.
3. Helps to create better soil quality
Tree stump grinding is a process that helps to create better soil quality. Grinding stumps breaks down the wood and helps to aerate and fertilize the soil with natural nutrients. The process also kills any weeds or unwanted plants that may be growing around the stump.
4. Create a more aesthetically pleasing lawn
The first step to a lovely lawn is removing any tree stumps. Grinding down the tree stump creates a flat surface that is perfect for gardening.
5. Provide a nicer appearance to the property
Grinding tree stumps can provide an aesthetically pleasing appearance to the property, but it will also help remove the potential hazard that the tree stump could pose. 
If you are looking for professional tree stump grinding services in CT then you should be sure to check out Green Valley Tree LLC.  If you have any questions about our stump grinding services, our tree services, or anything else, please feel free to contact us or give us a call today
We can also fill the spot with premium topsoil and sow it with high-quality grass seed to ensure a beautiful lawn takes place where a tree once used. 
We offer competitive stump grinding pricing
At Green Valley Tree LLC we offer professional, reliable, and affordable stump grinding without sacrificing quality. We offer competitive prices for both residential and commercial customers.
We are licensed & insured, and our staff is highly knowledgeable in the field of Arboriculture.
Green Valley Tree LLC is a fully insured tree service company in Windham CT. We offer free estimates.
Our tree service company offers a number of services including but not limited to stump removal, tree trimming, and emergency services. We offer free estimates and the best customer service in the industry.
We clean up the area after removing stumps from your yard.
We make sure that the area is left clean and tidy after we are done. Contact us for stump removal today!
"I couldn't believe how quickly and efficiently they removed several huge, dead oaks on my property. Josh was wonderful to work with. He was extremely caring and helpful, he showed up when expected and went above and beyond.I never thought it could be so easy and stress free. Not only was the service fantastic, their rates are surprisingly reasonable. Definitely will use them again."
How long does it take for the ground to settle after stump grinding?
The ground will take approximately 3-4 weeks to settle after stump grinding, but this is largely dependent on the soil type. Get in touch with our stump grinding services today.
How long does it take to grind a stump out?
It's no surprise that stumps are a common sight in yards. Removing them can be a tedious and time-consuming process, but with the proper tools and equipment it doesn't have to be an arduous task.
A lot of people don't know that a stump removal process can take anywhere from 15 minutes to 2 hours, depending on the type of stump, where it is located, and more. In some cases, a person might need to get a permit from the local authority before they can get their tree removed. Get in touch with our tree service today to get a free estimate.
Stump grindings are the leftovers of wood chips from a tree that has been cut down. Termites will also feed on sap, honeydew, and plant juices produced by plants so they may be attracted to stump grindings as well.
Is it better to grind a stump or remove it?
Grinding a stump is an ecological way to dispose of a tree stump.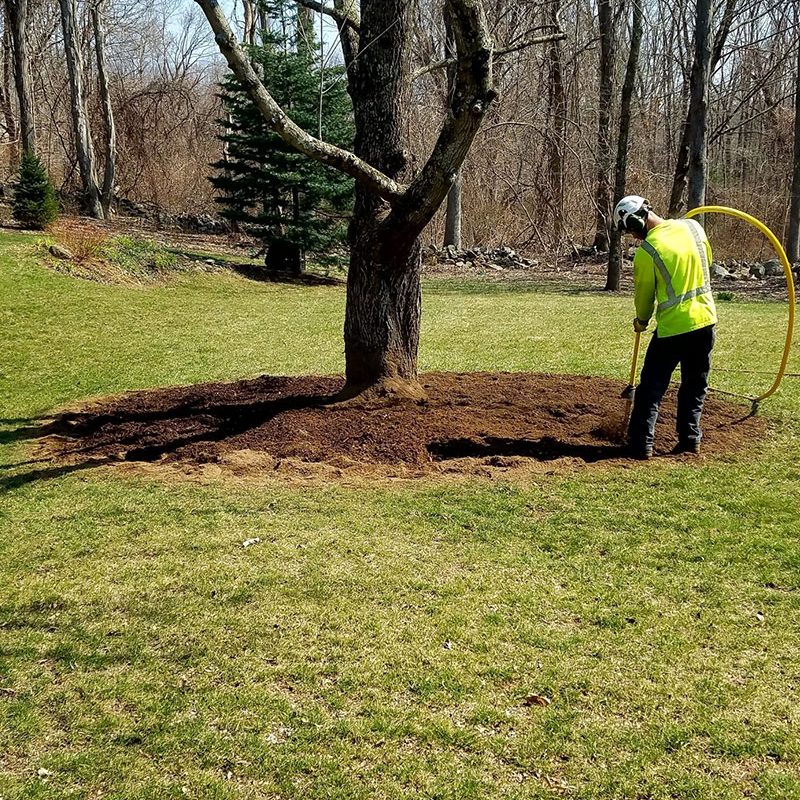 At Green Valley Tree LLC we take plant healthcare very seriously. Did you know that trees are among the longest living organisms on Earth? Unfortunately, trees can prematurely die due to insect and disease.
Consulting / Tree Risk Assessment
Whether you are a homeowner, business or municipality, we can help with your consulting needs. From evaluating trees for risk, planting or assisting with a construction project.
Green Valley Tree LLC offers tree pruning and trimming services to keep your trees safe, healthy and beautiful! Properly maintaining your trees is a preventative measure that helps keep them from becoming a liability, especially during storms and when we have heavy snow and ice.
Leave tree planting up to the professionals! Many landscapers improperly plant trees and by the time the homeowner calls us for help it is too late!
Tree Support Cable Bracing
Cabling your tree is a great way to reduce the risk of tree failure. Trees that may need to be cabled have structural defects that can cause the tree to prematurely split, reducing the lifespan of the tree.
From grinding one stump from a removal, to an entire acre that will be turned back into grass.
If you need immediate, emergency service outside of our regular business hours call our emergency at 860-966-5710.
Brush Clearing Vegetation Management
Green Valley Tree LLC offers brush clearing and vegetation management to residential, commercial and municipal customers.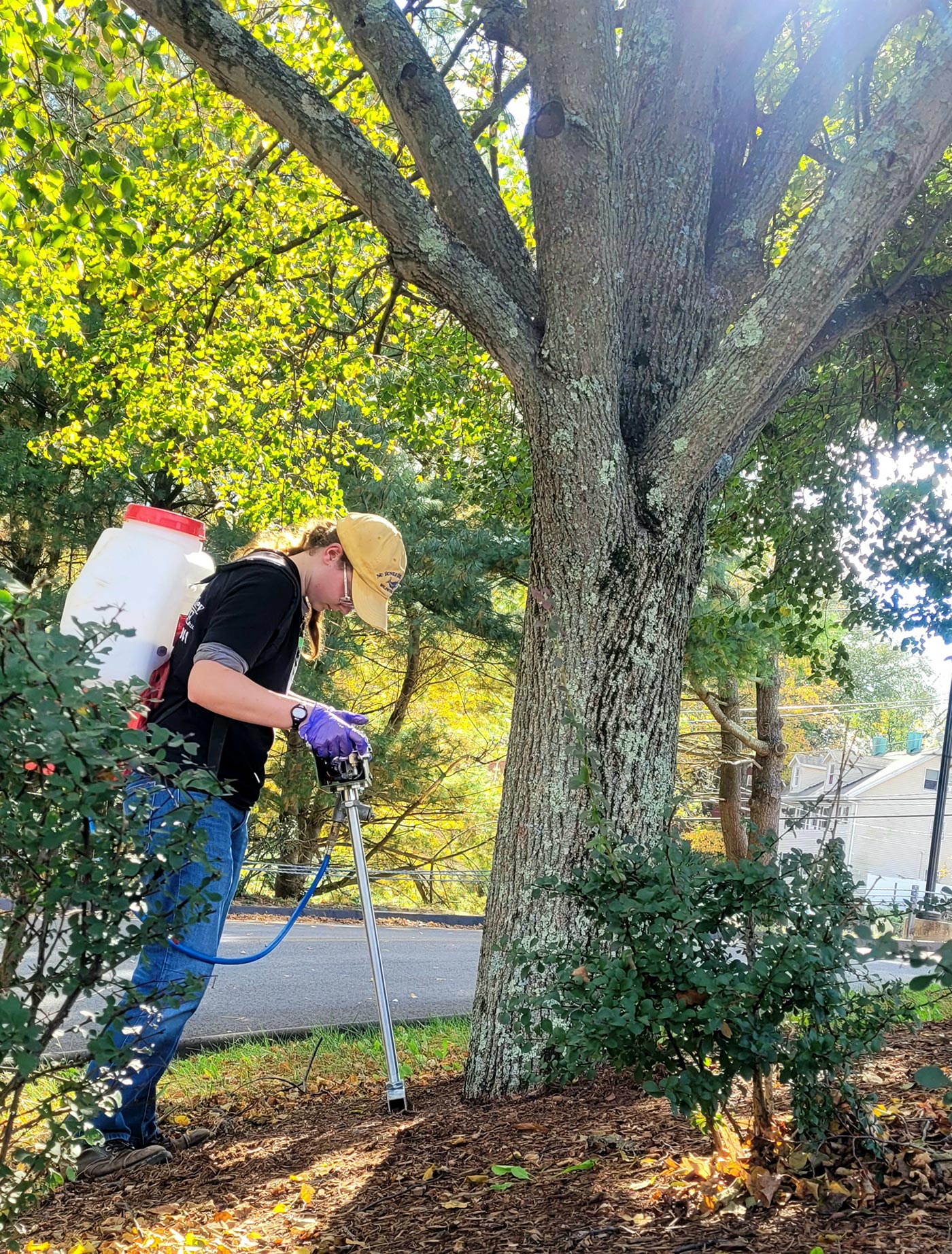 Finding a safe, professional tree service with all the proper licensing and insurance can be a daunting experience. Green Valley Tree LLC is a family owned and operated business serving all of Eastern Connecticut that takes pride in being a credible, fully licensed and insured company. We offer a wide range of top-quality tree services in North Windham CT to our customers with safety as our number one priority. We follow all OSHA and ANSI standards of safety as they relate to the tree care industry. Green Valley Tree LLC is also certified through the EHAP program to clear around power lines.